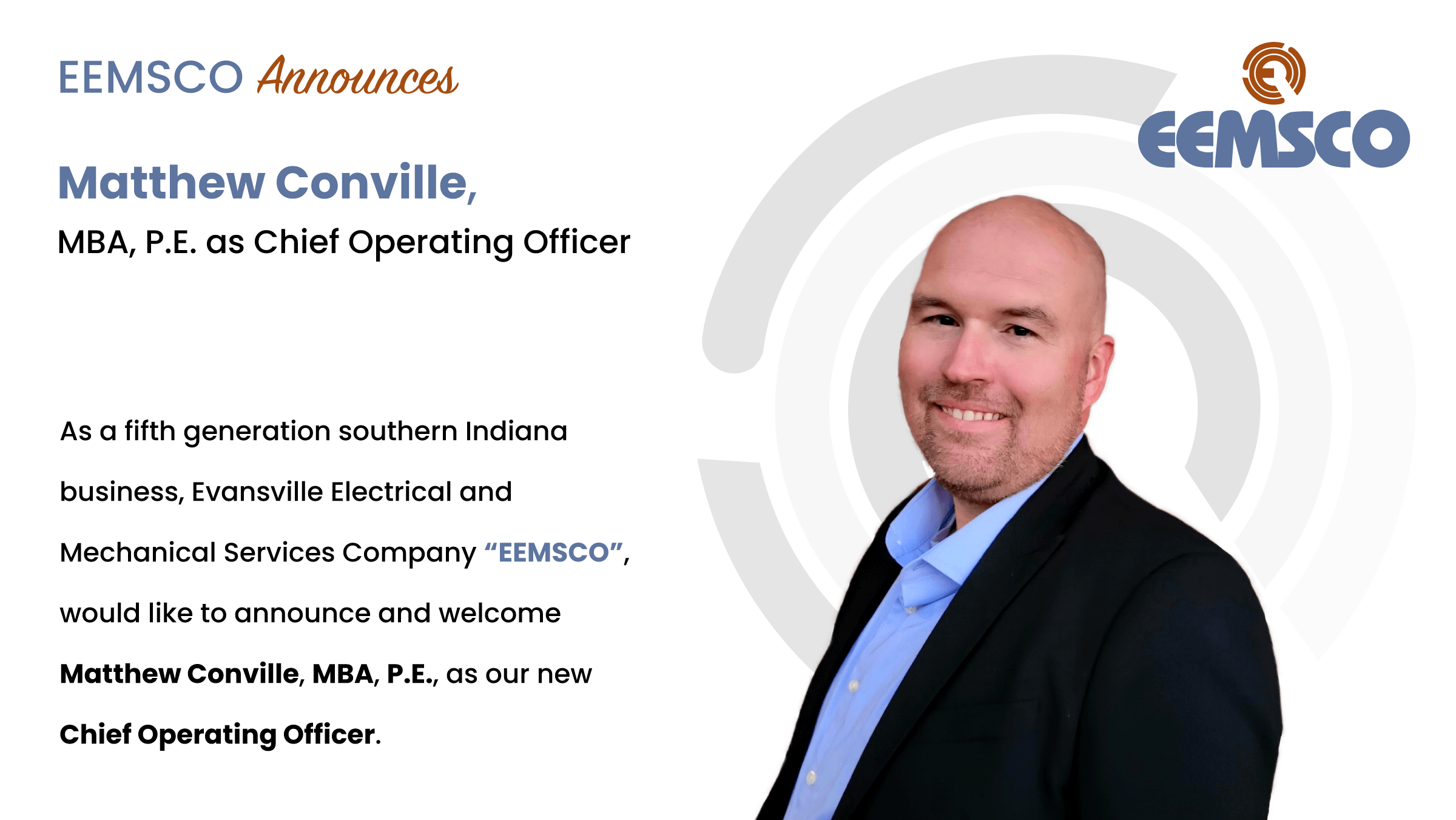 Fifth-generation southern Indiana business Evansville Electrical and Mechanical Services Company (EEMSCO) is proud to introduce Matthew Conville, MBA, P.E., as our new Chief Operating Officer. Matthew is an industry expert who brings over fifteen years of experience in the electro-mechanical industry. His background, leadership, and specific training in rolling mills, pulp and paper, injection molding, plastics extrusion, transportation, agriculture, and other commercial and heavy industries makes him an exciting asset to our team and our customers. 
Southern Indiana is home to a strong manufacturing industry that delivers products and services created by the use of efficient and operational machinery. These companies and their employees are the backbone of our community, providing economic and cultural benefits for the majority of the tri-state. 
As the maintenance provider for many of the essential machines used in these industrial companies, EEMSCO's continued growth allows us to keep the industry running smoothly. For that we are honored and thankful.
"We add the most value to our customers when we supplement their maintenance staff by using our expertise to help them diagnose problems and maintain equipment in order to maximize functionality and minimize downtime," says Tom Mathias, EEMSCO president. "By adding Matthew, one of the foremost industry experts on rotating equipment and a professional engineer, we add a great resource to an incredible team."
Matthew Conville has in-depth knowledge for specifying motor-driven system upgrades, including conversions from DC to AC and process upgrades for low- and high-voltage applications. He has acted as a lead systems design engineer for many projects in our community, nationally, and even globally.
Matthew has proven application experience with specifying and troubleshooting AC and DC drives, distribution transformers, MCCs, power quality accessories, speed feedback and positioning devices, PLCs, and other industrial control systems. He has industry training in electric machine specification for low- and high-voltage applications using NEMA, IEC, Above NEMA, and custom electric machines. He also has industry training in DC and AC machine design, redesign for performance upgrades, and root-cause failure analysis.
"I look forward to using my expertise to help more companies in the area achieve their productivity and reliability goals," says Matthew Conville. "I'm ready for the challenge of what's to come in terms of where our industry is headed, and to continue to find innovative solutions to our customers' ever-changing needs."
Matthew has an accredited bachelor's degree in engineering from the University of Southern Indiana with a focus in power distribution and electric machines. In 2019, he received his professional engineering license with his focus in electrical power. He also holds an accredited MBA in engineering management. 
With over 100 years of history and experience, EEMSCO has shown our ability to adapt to the ever-changing business environment of our customers. We look forward to continuing to provide mechanical, electrical, and maintenance services to some of the strongest companies in the region.